What is a Digital Thermometer?
Views:42 Author:SunnyWorld Publish Time: 2018-08-22 Origin:Site
What is a digital thermometer?
The electronic thermometer consists of a temperature sensor, a liquid crystal display, a button battery, an ASIC and other electronic components. It can quickly and accurately measure human body temperature. Compared with traditional mercury glass thermometers, it has the advantages of convenient reading, short measuring time, high measurement accuracy, memory and buzzing, especially the electronic thermometer does not contain mercury. The surrounding environment is harmless and is especially suitable for use in homes, hospitals and other places.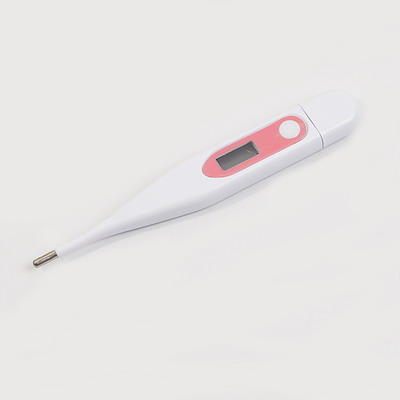 Basic structure
The main components are temperature sensor, temperature bar, display, switch, button and battery cover.
Temperature measurement principle
The electronic thermometer uses the temperature sensor to output an electrical signal, directly outputs a digital signal or converts the current signal (analog signal) into a digital signal that can be recognized by an integrated circuit, and then passes through a display (such as a liquid crystal, a digital tube, an LED matrix, etc.). The temperature in digital form is displayed, and the highest value of the measured temperature can be recorded and read.
The core component of an electronic thermometer is the NTC temperature sensor that senses temperature. The resolution of the sensor is up to ±0.01 °C, the accuracy is up to ±0.02 °C, the reaction speed is <2.8 seconds, and the annual resistance of the resistance is ≤0.1% (equivalent to less than 0.025 °C).